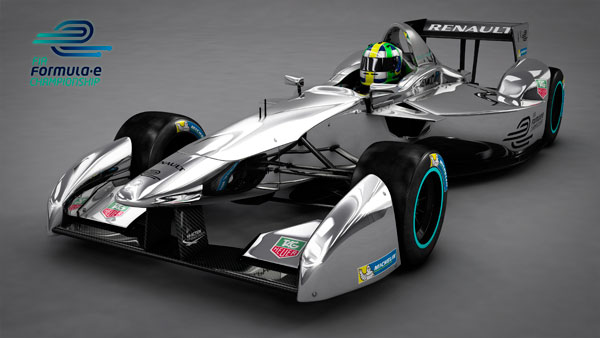 Formula E, the FIA's new global electric racing series, has today (23, January) announced that its new headquarters and team facilities will be based within the grounds of the Donington Park Racing Circuit in the UK.
Construction work on the 44,000 ft² bespoke premises began on 2 January and when complete will provide state-of-the-art facilities for each of the 10 Formula E teams, together with offices, stores and workshops for Formula E's own operational staff – totalling more than 150 people.
In addition, the Formula E teams – all of which have now been announced – will use the Donington Park circuit for their testing and development work on the fully-electric Spark-Renault SRT_01E race car.
The new facilities, located in Donington's Western Paddock, just 100 metres from the circuit itself at the Melbourne Hairpin entry, will also comply with the "Very Good" BREEAM sustainable construction standards and with the UK Government's Low Carbon Economy and the National Planning Policy Framework requirements. This will ensure teams benefit from high environmental standards, effective energy management systems and the reduction of carbon emissions wherever possible – in-line with Formula E's sustainability ethos.
Formula E is a new FIA Championship using electric single-seater race cars capable of speeds in excess of 225km/h. Beginning this September in Beijing, the series will compete in the heart of 10 of the world's leading cities including London, Miami and Rio de Janeiro. Ten teams, each with two drivers, will go head-to-head to create a unique and exciting racing series designed to appeal to a new generation of motorsport fans whilst accelerating the electric vehicle market and promoting sustainability.
Alejandro Agag, CEO of Formula E, said: "We looked at a number of locations around Europe but the British motorsport industry is regarded as the best in the world so it was an easy decision for us to be based in the UK and our new facilities at Donington Park provide the perfect central location for operating the FIA Formula E Championship. Being in the 'Motorsport Valley' also means we can take advantage of the technology and skills all around us, as we have already done through McLaren and Williams.
"All 10 teams will soon have top facilities at their disposal in a modern, sustainable building, as well as direct access to the circuit to develop their cars. We are also just a stone's throw from East Midlands Airport and the hub of our logistics partner DHL, meaning will we make substantial cost and emission savings. It's also great for such an innovative and global racing series to be based at a historic race track like Donington Park and we're looking forward to welcoming the teams."
All works will be complete by the end of April with the first teams moving in on 1 May. Formula E's commercial aspects will continue to operate out of its London offices.
Christopher Tate, Managing Director of Donington Park Racing Ltd, said: "Formula E and all its teams committing to this location here at Donington Park, the heart of British motor sport, is a critical forward leap for this company, for this wonderful race track, and for our region. Already there are dozens of civil engineers and technicians at work on the construction project. From May, around 150 highly technical racing engineers will be preparing and testing their all-new Formula E electric cars here. Three years after this company took over the estate; this is a major landmark moment for Donington Park."
He added: "Our own team, working with the North West Leicestershire Council, the Leicestershire Local Enterprise Partnership and the Growing Places Fund, have all come together to make this great project happen, and see this multi-million pound investment here once again prove the strength of the UK motorsport industry. With Formula E, we have no doubt this new centre will come to act as a technical hub for the future development of these exciting new technologies not just for the motorsport industry, but for the wider automotive sector as a whole. Everyone here now awaits the first test day for these new cars on this historic and demanding race track."
Business and Energy Minister The Rt Hon Michael Fallon MP added: "Formula E's decision to locate the international teams and its global HQ at Donington Park shows how Britain's thriving motorsport industry is continuing to attract international investment. With investment from the Government's Growing Places Fund – secured through the Leicestershire Local Enterprise Partnership – Formula E's new facilities will further promote Britain as a leading innovator in developing technologies for energy-efficient cars. Motorsport is now one of the key growth sectors, and a great British success story."