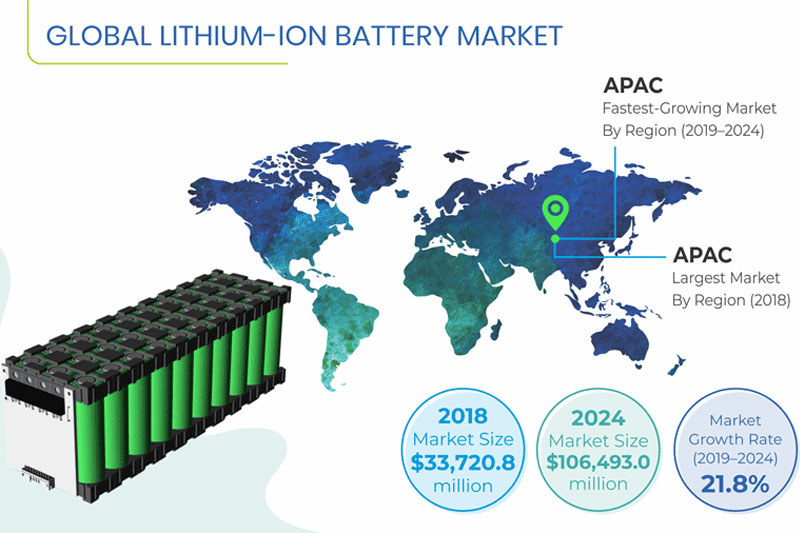 USA – Lithium-ion batteries are the source of choice of power for electric vehicles around the globe. The widespread use of electric vehicles (EVs) and plug-in hybrid electric vehicles (PHEVs) has inevitably boosted the adoption of lithium-ion batteries, which is expected to increase further in the future. The growing adoption of EVs among consumers has helped boost the market for these energy-saving, pollution-reducing vehicles.
Automotive Sector to Hold Largest Share of Lithium-Ion Battery Market
The number of electric vehicles is constantly increasing, owing to advantages aligned with them such as less need to maintain the vehicle engine, reduced use of hazardous oil waste, and reduction in pollution caused by fuel combustion engines, along with the development of improved battery technologies. Electric vehicles are perceived as the future of the automobile industry and transportation systems; their increased adoption will eventually increase the demand for lithium-ion batteries. A report from MarketsAndMarkets projected that the global lithium-ion battery market size is projected to grow from USD 41.1 billion in 2021 to USD 116.6 billion by 2030; it is expected to grow at a CAGR of 12.3% from 2021 to 2030. It added that the growth of the market is majorly driven by surging requirement for continuous power supply from critical infrastructures in wake of COVID-19, increasing demand for plug-in vehicles, growing need for battery-operated material-handling equipment in industries due to automation, continued development of smart devices, and growing adoption of lithium-ion batteries in renewable energy sector. Active mining stocks in the markets this week include: Lithium South Development Corporation (OTCQB: LISMF) (TSX-V: LIS), Piedmont Lithium Limited (NASDAQ: PLL), Albemarle Corporation (NYSE: ALB), Orocobre Limited (OTCQB: OROCF) (TSX: ORL), Standard Lithium Ltd. (NYSE: SLI) (TSXV: SLI).
The MarketsAndMarkets report added: "Automotive segment is expected to hold the largest share in the lithium-ion battery market during the forecast period. Battery-driven vehicles, such as electric vehicles, e-bikes, and automated guided vehicles, are major consumers of lithium-ion batteries. Depending on their source of power and application, EVs are classified into battery electric vehicles (BEVs), hybrid electric vehicles (HEVs), and plug-in hybrid electric vehicles (PHEVs). Increasing adoption and awareness of EVs supports the growth of the market. Automobile original equipment manufacturers (OEM) and players within the mobility industry are among the worst hit by the COVID-19pandemic. Automobile OEMs increasingly rely on just-in-time manufacturing, which is presently affecting their production capabilities and overall exports owing to supply chain disruptions. Automobile manufacturing plants are producing and supplying a few automobiles owing to the global supply chain disruptions resulting from lockdowns. This can impact the growth of the lithium-ion battery market until COVID-19 cases stabilize globally."
Lithium South Development Corporation (OTCQB: LISMF) (TSX-V: LIS), BREAKING NEWS: Battery Grade Lithium Carbonate to be Produced at HMN Li Project – Lithium South Development Corporation (the "Company") is pleased to announce that Eon Minerals of Miami Florida, through its laboratory located in Salta, Argentina, will be conducting test work to produce battery grade lithium carbonate from a bulk sample of brine to be recovered from the Hombre Muerto North Lithium Project (HMN Li Project), Argentina. Conventional process technology, based upon the proven evaporation extraction process of lithium will be utilized in this test phase.
The testing will begin with a pre-concentration process of 15 cubic meters of brine in ponds located at the project site. Work will include liming, solid-liquid separation, removal of boron through Solvent Extraction, polishing of the brine, precipitation of primary lithium carbonate, bi-carbonation, polishing of the brine by Ion Exchange, resulting in a targeted-battery grade lithium carbonate product. The process will also produce a lithium chloride solution with a targeted concentration up to 6% wt., which will be shipped to Chemphys Chengdu in China for further refinishing to their customer specifications.
The process test work will result in hard data for the design of a pilot test plant. Recovery rates of lithium under salar conditions will provide the information required for a National Instrument 43-101 Technical Report. The process test work will be supervised by Mr. Alex Mezei, a Qualified Person for the purposes of N.I. 43-101 and a recognized expert within the industry.
Company President, Adrian F.C. Hobkirk is quoted: "We are very pleased to move our project forward towards the pilot plant stage, as part of our evaluation of the best process to use in achieving lithium production at the HMN Li Project."