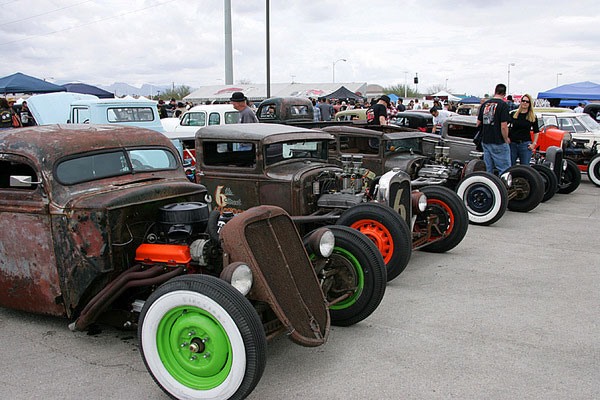 What do classic cars, burlesque, pin-up competitions, and Elvis themed weddings all have in common? The answer is the Viva Las Vegas Rockability Weekender which includes the best classic car show in America with over 800 models on display.
Held at the Orleans Hotel and Casino and its mammoth car park, the event is exclusively for folk who like to let their hair down, get into the spirit and enjoy some traditional Las Vegas fun.
Despite attractions such as a vintage swimsuit competition, burlesque classes, the opportunity to get tattooed by some of the leading tattoo artists in America and of course getting married in true Las Vegas style by a singing Elvis doppelganger while wearing Elvis style sun-glasses.
The real star of the show is the collection of classic cars and motorcycles all dating pre-1964.
You will find some of the best classic cars still in existence as well as some of the more bizarre models and vintage racing cars; note that neither VWs, cars with diesel engines nor any Japanese motors are allowed.
This is a very popular event and already hotel rooms are being filled. There are no vacancies at the Orleans Hotel though at the time of writing there were still rooms available at some near-by hotels and casinos with shuttle busses included; check out the Lucky Nugget for the latest availability. If you want to show off your own classic car, then it is necessary to pre-register it and submit a side-on photograph for approval. You need to have purchased tickets for the show before attempting to register your vehicle. One day tickets start from just $30 for just the car show, a full four day pass costs $120.