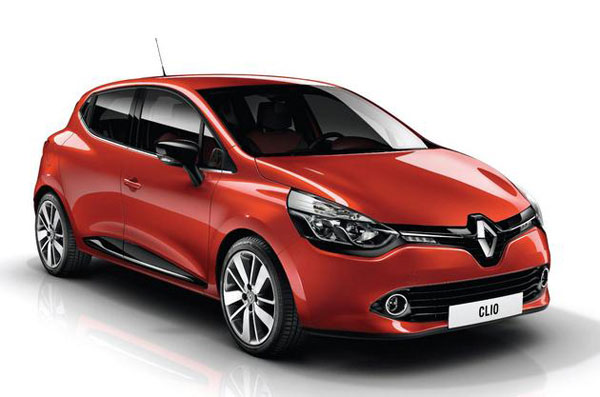 Since the launch of the original model in 1990, some 11.5 million Clios have been sold in more than 115 countries. Today, a new chapter in Clio's history is about to be written with the unveiling of the fourth-generation version.
– Fourth-generation Clio unveiled today ahead of Paris Motor Show world debut. Launches in the UK early 2013
– Sensual and passionate design including DeZir concept styling cues, plus first model from launch to feature new Renault corporate identity
– New engines with low CO2 and impressive fuel economy: first Renault three-cylinder turbocharged petrol (0.9-litre TCe 90), 1.2 TCe 120 and 1.5 dCi 90
– New technologies: R-Link integrated and internet connected touchscreen tablet (plus R-Link Store – automotive industry's first-ever Application Store), rear parking camera and R-Sound Effect app
– EDC (Efficient Dual Clutch) transmission offered for first time in Clio
– Five-door model only, including Renaultsport
– On average, 100kg lighter than predecessor
– Personalisation is prominent feature both inside and out
"New Clio is set to make a real mark. In addition to an unprecedented package of innovations, its design marks a major shift from that of previous models." Carlos Tavares (Chief Operating Officer)
New Renault Clio, an incarnation of the brand's new styling identity
New Renault Clio is the first production model to give full expression to the Renault design renaissance inspired by Laurens van den Acker, Senior Vice-President, Corporate Design. The promise was to take the style and emotion of the brand's latest concept cars and carry them over to production models. Renault's new supermini fulfils that promise.
"New Renault Clio was conceived as a piece of sensuous sculpture which stimulates desire. Like muscles, its curves express the dynamism radiated by the DeZir concept car. No acute or aggressive angles, just voluptuous curves that make you want to go up to it and caress it." Laurens van den Acker (Senior Vice President, Corporate Design)
Balanced, dynamic exterior proportions
New Clio stands out through its front-end design which features a prominent Renault logo, set bold and upright to a gloss black background, an arrangement first seen on the DeZir concept car. This frontal treatment is further emphasised by the headlights – the lower edge of which is picked out in chrome – and LED daytime running lights. Offered only in five-door form, New Clio has a sporty silhouette, accentuated by integrated rear door handles concealed close to the rear quarter lights. In comparison with its predecessor, it packs extra dynamism and personality thanks to a lower ride height, wider tracks, wheels pushed out wide within the arches, and a reduction in the gap between the wheels and wheel arches. From launch, New Clio will be offered in a choice of eight body colours, including the launch colour which is derived from the red used for DeZir.
A fresh, welcoming, occupant-friendly cabin
Safe, protective and refreshing, the interior of New Renault Clio perfectly complements the exterior style to inspire confidence and energy. Comfort goes hand-in-hand with a modern feel and user-friendliness thanks to the dashboard sculpted in the shape of an aircraft wing, the optimally-positioned multimedia system on the centre console, a wide range of colour options, a digital speedometer, comfortable seats and chrome and gloss-black trim highlights.
Broadest-ever personalisation programme & long list of affordable options
Exterior and interior personalisation was dialled into New Renault Clio's design process at the outset. From launch, buyers will be able to personalise the outside of their car with a selection of colour touches to the front grille, rear and side door inserts. To personalise the interior, the menu covers the dashboard, door panels, steering wheel, grab handles, gear lever and air vent surrounds, upholstery materials and optional floor mats. Thanks to attractively-priced option packs, buyers are able to choose the look and feel they prefer.
New Renault Clio: packed with innovations
When it comes to innovation, Renault's new supermini retains Clio's tradition of redefining expectations within its class and raising the standards for small cars.
Renault R-Link – an integrated tablet connected to the car and internet
Having been first with notable innovations such as steering wheel-mounted radio controls (1982, R11 Electronic) and in-car navigation (1994, Safrane), after bringing keyless entry to the volume market (in 2001) and GPS navigation with a high-resolution screen (Carminat TomTom® priced at £450 for Clio in 2009), and having launched on-board connected navigation in the shape of Carminat TomTom® LIVE for Clio, Renault continues its stream of innovations with Renault R-Link.
Available as standard from Dynamique upwards for New Clio, Renault R-Link provides a bridge between the car and the connected world outside thanks to:
– A wide seven-inch (18cm) touchscreen, intuitive voice commands and, as a market first, a home page that can be personalised by the user for safe and simple access to essential functions, without the driver having to take his or her eyes off the road.
– TomTom® connected navigation includes Live services and boasts the market's best real-time traffic information, helping to minimise journey times and fuel consumption.
– Among other benefits, a connection with the car's own electronic systems permits access to an advanced eco-driving function (Driving eco²) which analyses the driver's behaviour and provides advice to help reduce fuel consumption.
– Thanks to the Renault R-Link Store, the automobile world's first ever Application Store, users can easily view or download a comprehensive and varied range of apps from their car or computer (via 'My Renault').
The scope of Renault R-Link's connected functions will continue to expand thanks to 'Paris Incubateurs' (a Paris-based hot-house for young talent) and to an appeal extended to start-ups at the LeWeb'11 show. Over and above the services provided by TomTom® LIVE and the COYOTE app, which alerts the driver to dangerous situations (in countries where this feature is available), R-Link users can also check their messages, for example, manage their diary, locate the nearest service station or place to park, or send a tweet….
One Renault R-Link app – Renault R-Sound Effect – enables the audio experience inside New Clio to be personalised by immersing the cabin in a specific sound environment. It can simulate six different engine sound profiles, each with a specific, attractive signature and perfectly synchronised with driving parameters such as speed and acceleration.