Franco-German Mia Electric Vehicles To Debut At RAC Future Car Challenge.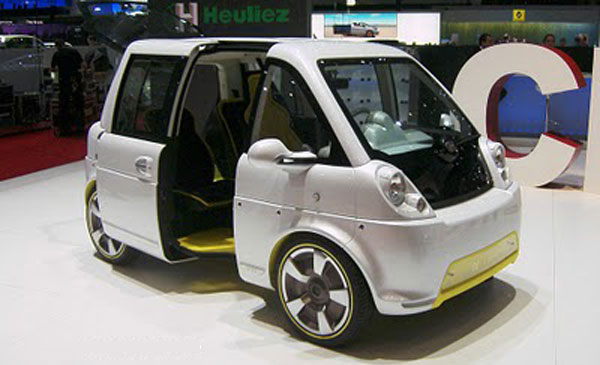 Following the world and UK debuts of several cars which took part in last year's highly successful RAC Future Car Challenge, the 2011 event on Saturday 5 November promises to unveil many more new vehicles to the public.
Fast growing Franco-German e-car company, Mia, has confirmed it will enter a 'mia L' in the RAC Future Car Challengeto coincide with the launch of its three-model range in the UK. The Mia electric parent company, Mia electric GmbH, has registered offices in Germany while vehicle production facilities are in Cerizay, western France.
The mia L is capable of seating four yet is only just over three metres long. It has a top speed of 110km/h (nearly 70mph) and can be fully recharged in five hours, with top up charges as short as ten minutes. Even shorter at 2.87m is the similarly styled mia three-seater and the current range is completed by the mia box van with a cargo volume of around 1500 litres. All three vehicles have a range of around 120-130 km (approximately 80 miles).
The Mia range was first launched at this year's Geneva Motor Show in March and has already received an award in the initiative 'Germany – Land of Ideas'. Since its launch, Mia has over 2500 orders, and its production is due to start in June.
Richard Deslandes of Mia EV, SAS in France, says: "We could not have asked for more perfect timing for our participation in the RAC Future Car Challenge, the event coincides with the debut launch of the Mia range of electric vehicles in the UK. We are very proud of our innovative urban cars, proud to be associated with the RAC Future Car Challenge and very confident in the future for our cars in the UK."
The RAC Future Car Challenge is open to electric, hybrid, hydrogen and low-emission internal combustion engine cars and light-commercial vehicles. Last year's entry list included prototypes and pre-production vehicles from manufacturers such as Honda, Mercedes-Benz, Toyota, Nissan, Vauxhall, BMW, Skoda and Volkswagen, as well as current production cars offering the highest levels of efficiency regardless of their powertrain.
The challenge requires entrants to cover a 60-mile route from Brighton to London, mirroring the annual London to Brighton Veteran Car Run, also organised by the Royal Automobile Club, culminating at the finish on London's Regent Street, closed to normal traffic for the occasion and lined with over a quarter of a million spectators.
For 2011 the total number of entries permitted has been increased to 90 and the diversity of the entry list has been recognised by the organisers with a range of awards in 15 different vehicle categories as well as by power source. The overall winner will be the car that uses the least amount of energy over the route.