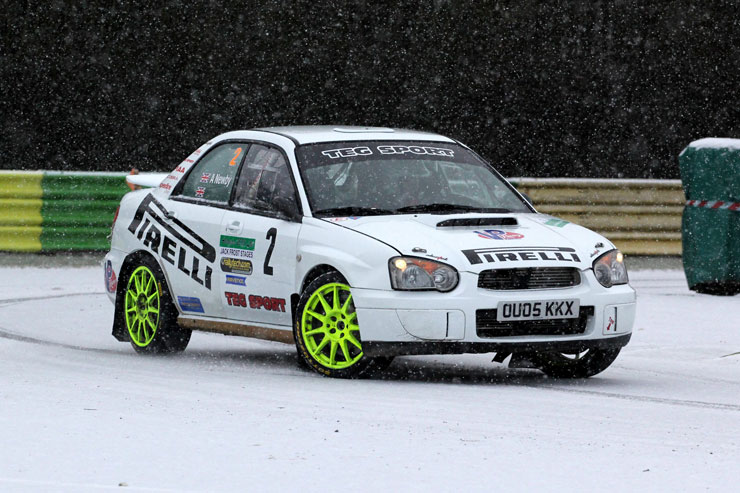 Winter arrived for the first time at Croft Circuit just in time for Darlington and District Motor Club's annual Autogas 2000 Jack Frost Stages Rally with the unexpected snow but it didn't stop Carnforth driver Arron Newby along with co driver John Cope taking their Subaru to an impressive win, eventually edging out three times victor Chris Wise's MG Metro 6R4 by 17 seconds after a day of drama around the North Yorkshire racetrack.
Ostensibly using the event as a test for the Carnforth-based TEG Sport team's gravel car, SS1 saw dry conditions with a light covering of frost but it was Wise who drew first blood, stopping the clocks 15 seconds faster than Newby as the snow clouds loomed dark overhead.
SS2 was scrapped as the weather worsened and caused a timing anomaly, although it worked against double Manx champion Newby who had stopped the clocks around two minutes quicker than his rivals so lost out as a result.
Undeterred, the Ravenol Oils and VP Fuels/Pirelli-backed TEG Sport Subaru pair hoped to claw back some time on the next stage but by now, driving sleet had replaced the snow as Newby dropped time on SS5 in the slushy conditions but spurred into action, Arron set about reducing the gap and claimed fastest time on SS6 as the rain eased.
Newby took full advantage of a poor stage by Wise by setting fastest time as dusk started to fall and took a 12 second lead into the final test as the snow started once again. Not to be denied, Newby set his third fastest stage time to cement a debut victory at Croft and a 16th career win for the 19 year old.
Arron Newby: "Considering we only came to Croft to test the diffs in the gravel car, to then win the event is an absolute bonus and a mega start to the year. After the snow started to come down heavy on stage two, we had a clean enough run to come out of there two minutes ahead of all the front runners, but as more of the field went through it became a lottery and it was scrapped so I found myself in 38th position. Despite the slush, snow, ice and wet conditions, we managed to not only do the testing we needed, we also tested the new Pirelli winter tyre which worked brilliantly in the horrible conditions. First overall on the first event of the year is fantastic and a massive thanks to John Cope for navigating, he did a superb job and we had a great laugh all day. Thanks to all at TEG Sport for the support in the cold conditions and to all of my sponsors including Pirelli, VP Race Fuels & Ravenol Oils."
Stuart Newby, TEG Sport Team Owner:  "Croft was used primarily as a test as we were experimenting with a new diff set up in the gravel car and with John Cope as co driver, his driving experience was vital in giving us feedback. After a steady start and having not driven the car since finishing second on last November's Premier Stages Rally, all was going well when a monumental amount of snow fell for the start of SS2. We fitted the new winter tyres that Pirelli had kindly sorted out for us last minute Friday night and put in a blinding time beating our nearest rivals by over two minutes but by the time all 90 cars had been through it the times were a lottery which resulted in stage maximums being given. A full on attack from that point saw us climb back up before taking the lead towards the end and going on to win."
Autogas 2000 Jack Frost Stages Rally Results
1 Arron Newby/John Cope (Subaru Impreza) 53m 14s;
2 Chris Wise/Tracey Taylor-West (MG Metro 6R4), +17s;
3 Peter Stephenson/Ian Windress (MG ZR) +1m 08s;
4 James Gibb/Billy Gower (Subaru Impreza);
5 Barry Lindsay/John Richardson (Mitsubishi Lancer Evo 9);
6 David White/Edward Pikul (Subaru Impreza);
7 Stuart Walker/Julie McGuire (Skoda Fabia);
8 James Sharrock/Stuart Faulds (Ford Escort Mk2);
9 Hamish Kinloch/James Howie (Ford Escort Mk2);
10 Martin Farrar/Andy Ward (Subaru Impreza)